Marine Audio
If you love spending time on your boat, you'll enjoy that time even more with a great marine stereo system. Upgrade your boat speakers and other components with help from the experienced professionals at Ronnies Electronic Autoland. Since 1987, we've been San Diego's best bet for marine stereo installation and repair. We bring together quality workmanship with professional customer service, working efficiently so you don't have to be without the use of your boat any longer than necessary. We'll give you a marine audio system that will allow you to enjoy the music you love no matter how far out on the water you go—and we'll install components that are durable and water-resistant for your long-term satisfaction. Want to learn more about how Ronnies Electronic Autoland can help you make the most of your boat? Call or e-mail us today!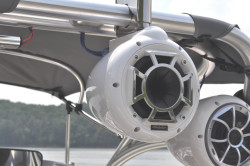 We work on marine audio components including:
Boat speakers
iPod integration
Bluetooth integration
Satellite radio
Amps
Subwoofers
And more!
Your boating excursions will be better than ever thanks to our skill and expertise, as well as the top-of-the-line products we install. We'll take the time to discuss the marine audio options available to you, and then we'll craft a complete marine stereo system that meets all of your needs. From improved sound quality to the ability to receive satellite radio stations and beyond, Ronnies Electronic Autoland is your choice for marine stereo systems in San Diego and the surrounding region.
Insured for Marine Stereo Work
For your protection and peace of mind, Ronnies Electronic Autoland is fully insured for all of the work we do. Your boat and your new boat stereo system are in excellent hands when you choose our pros. On top of being insured and having 28 years of experience in our industry, we're proud to have won awards for many of our vehicle upgrade services. Want to work with boat stereo specialists who will get the job done right? You've come to the right place. 
We stand behind all of the marine stereo systems we install with a lifetime labor warranty. Concerned about the cost? We'll be happy to give you a free estimate for our labor and for all of the components you have in mind before we start the job. Your satisfaction matters to us, which is why we aim for nothing less than superior craftsmanship at a price that's reasonable and competitive for the San Diego area. Contact Ronnies Electronic Autoland today to learn more about how marine stereos and other audio components can amp up your boating experience! 
Marine Electronics
Marine Audio Speakers
Boat Stereo Systems